Cheryl Cage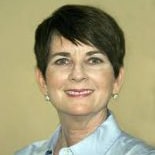 Founder and Author 
A Cage Marshall Team Member for 31 Years
Cheryl Cage began Cage Consulting, Inc. in 1988. Over 125,000 pilots have used the Interview Preparation and Career Planning products and services of Cage Consulting. Cheryl is the author of five aviation career books including the best-selling Checklist for Success: A Pilot's Guide to the Successful Airline Interview.

Beginning in 1990 Cheryl served as an Independent Consultant to the Air Line Pilots Association (ALPA). Cage Marshall Consulting has presented pilot interview preparation seminars to thousands of displaced ALPA pilots from PanAm, Midway, USAirways, TWA, Air Wisconsin, West Air, and Aspen Airways to name a few. In 2001, Cheryl was retained by the Allied Pilots Association and United Airlines ALPA to present job search workshops for their furloughed pilot members.

The publishing division of Cage Consulting was expanded in 1996. This resulted in several new titles including the popular Airline Pilot Technical Interviews and Mental Math for Pilots by Ronald McElroy. In 2016, Cheryl co-authored The Military Pilot's Guide to Civilian Employment.

Prior to Cage Consulting, Cheryl graduated from college with a B.A. in Psychology. She worked as a flight attendant for Braniff Airways. With the bankruptcy of Braniff in 1982 Cheryl made a career transition into marketing and management for a national sports company. She left this position to start Cage Consulting, Inc.

PAST CLIENT LIST: Allied Pilots Association, Air Line Pilots Association, Embry-Riddle Aeronautical University, Universal Pilot Application Service, American Airlines, USAirways, and Women in Aviation International. Cheryl's advice columns have appeared in Flight Training, Air Line Pilot, Aviation for Women, and The Independent. For two years Cheryl wrote a career column for The Army, Navy, and Air Force Times; this column focused on gaining civilian employment after military retirement or separation.